Get Noticed, EdTech Startup! – 20 Useful Media for Guest Featuring
March 24, 2021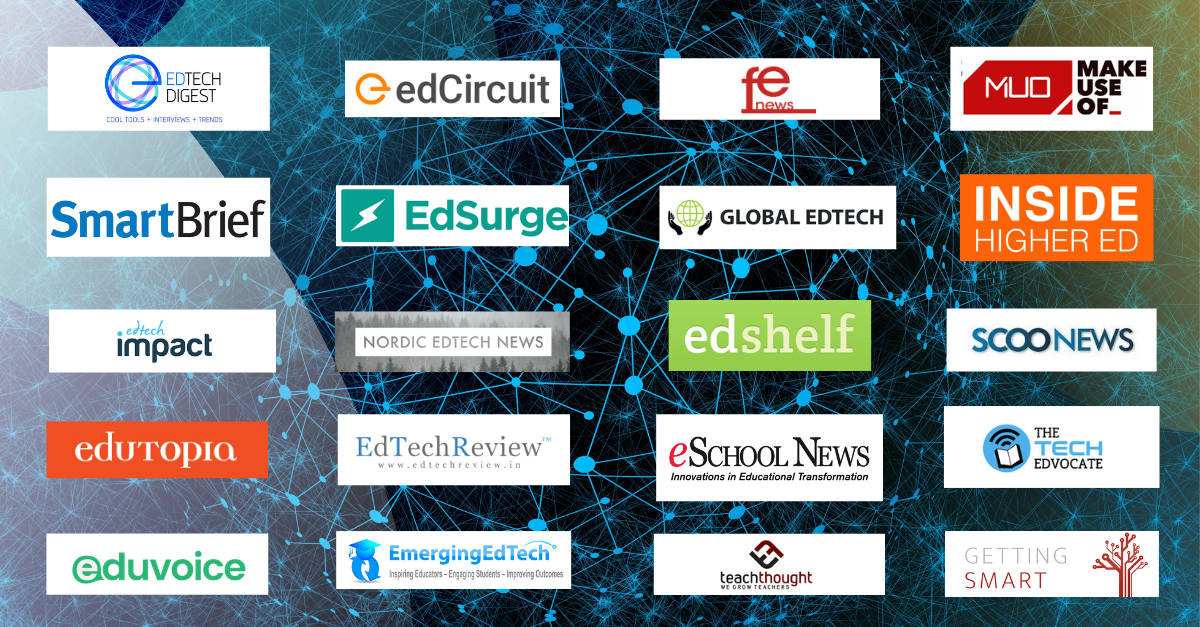 For the fresh out-of-the-oven EdTech startups, effective inbound marketing strategies and building a professional brand online, should be a priority. And being featured in various, international EdTech news websites, social media and other channels, is a good way to get noticed by potential clients, attract traffic to your doorstep and form new partnerships.
We compiled a list of useful sites, where EdTech professionals and organizations can network, get featured and stay informed on the latest industry news.
Also check out our other informative lists for EdTech companies at the end of this article!
List of EdTech Media
1) EdSurge - an independent information resource and community for everyone involved in education technology.
Write for us: https://www.edsurge.com/write-for-us
"Your piece should be a fresh, thoughtful commentary or narrative on issues relevant to the future of learning, written by someone who has unique expertise or experience."
Benefits: 6K followers and 10 articles published per week (Feedly). Getting listed to the EdSurge Product Index (a community driven database of EdTech products).
2) EdTech Digest - who's who and what's next in EdTech.
Guest Columns: https://www.edtechdigest.com/guest-columns/
"Your insights may be more helpful to others than you were led to believe."
Benefits: 100,000+ annual readers, 42,000+ followers on social media, State of EdTech – a free insight and other EdTech related listings, the annual EdTech Awards.
3) Edutopia - a comprehensive website and online community that increases knowledge, sharing, and adoption of what works in pre-K–12 education.
Write for us: https://www.edutopia.org/about/your-turn-write-us
"We welcome pitches on all academic subjects and all grades from pre-K through 12th. And we're always interested in pitches on our core strategies: project-based learning, social and emotional learning, technology integration, professional learning, comprehensive assessment, and integrated studies."
Benefits: Huge social media following on FB, Twitter & IG, and an active Youtube channel.
4) SmartBrief - digital media publisher of targeted business news and information by industry.
Write for us: (education category): https://www.smartbrief.com/originals/contribute
"SmartBrief welcomes ideas for original editorial content from guest writers."
Benefits: Subscriber base of 6 million industry leaders, B2B orientation, targeted newsletters e.g. SmartBrief on EdTech and excellent social media following.
5) EdTech impact - an independent review platform for EdTech - designed to help educators find the best products, and push companies to up their game.
Articles: https://edtechimpact.com/news
No straightforward path to guest blogging, but the site does feature many different EdTech professionals!
Benefits: Your EdTech product getting reviewed (free plan). EdTech Impact has a following base in the UK education market but also international orientation, and a pretty good social media presence.
6) Global EdTech - global news, views & reviews from across the EdTech world.
Global EdTech Authors: https://www.global-edtech.com/category/community/
Benefits: EdTech Startup News -category, region-based categorization and strong international orientation. Check out Networks, Research and Events for useful information. Global EdTech is an active community & networking ground, and it has a good Linkedin and Twitter following, plus a free monthly newsletter.
7) EdTechReview - a premier media platform and community for educational stakeholders to connect and find useful news, information and resources on educational technology.
EdTech Product Reviews: https://edtechreview.in/edtech-product-reviews
Submit a Press Release: https://podio.com/webforms/4497543/352887
"EdTechReview gives you a platform to let the world know about your product, related press releases, and its practices by educators and learners all over the world."
Benefits: a niche subscriber base of 120,000+ and an annual readership of 3M+ from over 220 countries and territories across the globe, plus a huge social media following. Browse the extensive Clients -list to get a picture of the field. Check out paid advertising options and Resources on the website.
8) FE News – the Future of Education News Channel
Publish, style guide: https://www.fenews.co.uk/my-page/style-guide
Benefits: Featured Voices -category, registration and feeling of a community. You can publish many kinds of content (press releases, courses, events, videos etc.) and there's a lot to see on the website.
9) EmergingEdTech - personal weblog where you can interact with a worldwide community of educators and technologists, explore the use of technology as an instructional tool and student success enabler.
Contact: https://www.emergingedtech.com/contact/
Benefits: 9K followers (Feedly), Posts by Category, active commentary on articles and a big social media presence.
10) Nordic EdTech News - weekly updates from the Nordic and Baltic EdTech Ecosystems.
Contact the author: https://nordicedtech.substack.com/about?utm_source=menu-dropdown
"Feel free to email me or reply to the fortnightly newsletter with stories and/or sources that I've missed or should consider including."
Benefits: The best source to follow what's happening in the Nordic EdTech scene. The concise format makes it easy to glance it through and pick the news of your interest. The author is well-informed of the latest activities and welcomes also earlier stage companies to share their news. 
11) Edshelf - a socially-curated discovery engine of websites, mobile apps, desktop programs, and electronic products for teaching and learning.
Add Tool: https://edshelf.com/add-tool/
Benefits: easy and free  to submit your product to the database / or to encourage your product's users to give feedback. Also, an extensive search tool for the products and the Create Shelf -feature on the website (to e.g. follow certain apps privately or create a public collection with a theme).
12) Getting Smart - a community of learners and contributors that covers important events, trends, products and publications across K-12 and post-secondary education and early and lifelong learning opportunities.
Guest submission Guidelines and Policies: https://www.gettingsmart.com/gettingsmart/guest-submission-guidelines-an...
Media Kit: https://www.gettingsmart.com/media-kit/
"We're always looking for new and interesting EdTech tools and other companies that can help educators address the challenges of educating students for the 21st century. We welcome submissions from or on behalf of EdTech companies, as long as they don't 'feel,' to our team of editors, like they were designed to be an advertisement."
Benefits: great instructions on how to become a guest blogger, and the Authors-page shows off many kinds of edu professionals and how many articles they've submitted. Getting Smart has a good social media following, and partners are also featured on the site. Last but not least, check out the Media Kit!
13) The Tech Edvocate - hoping to provide a well-rounded, multi-faceted look at the past, present, the future of EdTech in the US and internationally.
We Can Help You Promote Your Press Release: https://www.thetechedvocate.org/we-can-help-you-publish-your-press-release/
14) EdCircuit - a collection of thought leaders in education business, practice, policy, and innovation.
Submit a Press Release: https://www.edcircuit.com/about-edcircuit/
15) eSchoolNews - covers education technology in all its aspects–from legislation and litigation, to best practices, to lessons learned and new products. First published in March of 1998, eSchool News is a monthly print and digital newspaper.
Submission Guidelines: https://www.eschoolnews.com/submissions/
Submit a Press Release: https://www.eschoolnews.com/pr-submissions/
"eSchool Media welcomes submitted articles from educators, industry experts, executives, and stakeholders."
Benefits: Free registration on the site for educators and lots and lots of free resources (sign in required). Digital Issues, Guides (K-12 coding and robotics guides), virtual events & podcasts are all found on the site, and eSchoolNews has a good social media presence to top it off.
16) Eduvoice - working towards its vision of transforming Indian Higher Education System into a World Class Education System.
Contact us, Write with us: https://eduvoice.in/contact-us/
Benefits: If you're hoping to get a deeper understanding of India's higher education system. Check out Interviews, ask about local contacts and utilize the local social media following.
17) ScooNews - India's largest media platform for the education sector featuring print, online, online TV and events with a monthly reach of a staggering 0.5 million educators and school leaders.
Content Submission Form: https://www.scoonews.com/post
"Submit a news, tip, story, story idea, letter to the editor, announcement, community news (education related), school news, upcoming event, photo, video and/or a press release for inclusion in ScooNews online / magazine."
Benefits: Daily news, decent following on social media (Youtube has 2.77K subscribers) and previous issues are available digitally.
18) Inside Higher Ed - the leading source for the latest news, analysis, and services for the entire higher education community.
General Guidelines for Submissions: https://www.insidehighered.com/content/general-guidelines-submissions-in...
"Inside Higher Ed welcomes articles and proposals for pieces from our readers for our Views, Letters to the editor, and Careers sections."
Benefits: 17K followers (Feedly) with a Higher Education perspective. You can share opinions of current affairs on Views. There are some freely available insights at Reports & Data, free live and on-demand webcasts, and you can Advertise on the site (extensive paid marketing services).
19) TeachThought - an idea and brand dedicated to innovation in K-12 education - pursued by growing teaching via thought leadership, professional development, resource curation, curriculum development, podcast publishing, and collaboration with organizations around the world.
Advertise, Editorial Coverage: https://www.teachthought.com/advertise/
"If you'd like to submit an idea, product, or service for consideration for editorial coverage by TeachThought, please contact us directly and we will consider it in the context of our full editorial calendar. You can also always email us to submit non-promotional content. We are very eager to publish teacher-written content, as well as thinking from developers, administrators, and thought leaders in education."
20) Make Use Of (Technology News) - not a tech expert yet? Every MUO article will bring you one step closer.
Write for MUO: https://www.makeuseof.com/contributor/
"MUO is your guide in modern tech. Learn how to make use of tech and gadgets around you and discover cool stuff on the Internet. We are looking for writers who can produce in-depth premium content with expert knowledge in one or more of MUO's featured categories."
Benefits: a strong technological perspective. You can't do guest blogging, but you'll get credited and paid for every writing contribution. Great for freelancing and getting informed about tech!
21) K12 Digest - an independent international publication (portal & magazine) focusing on the K-12 Education  sector worldwide.
Content Contribution Guidelines: https://www.k12digest.com/content-contribution/
"K12 Digest welcomes article pitches from both freelance writers, industry professionals and students who wish to share their insights and opinions on any types of topics related to K-12 School Education."
Benefits: digital magazines are easily found and free to read on the website. You can join the School Education Experts Network, which focuses on bringing together K12 professionals. Many categories for featuring e.g. Leaders in Focus, EdTech Insights, Product Spotlight, Academic Views, Industry views and Success Stories.
Bonus: The Learning Network (NY Times) - Since 1998, The Learning Network has been helping people teach and learn with The New York Times.
How to Use this Site: https://www.nytimes.com/2019/09/02/learning/current-events-teaching-reso...
Benefits: lots and lots of resources and ideas for educators & students (e.g. "Give students a voice"), and professional development webinars etc. - just check it out!
Check out our other resources
Hope you are now inspired to pick up a pen or a keyboard, and to become the next big influencer in the EdTech scene! According to Copyblogger the best advice for content is "create what you would want to consume".
These articles were made especially EdTech companies in mind:
List of EdTech Product Review Sites & Catalogs
List of EdTech Awards for 2021
List of Quality Standards & Certifications for Educational Products