List of EdTech Product Review Sites & Catalogs
January 18, 2021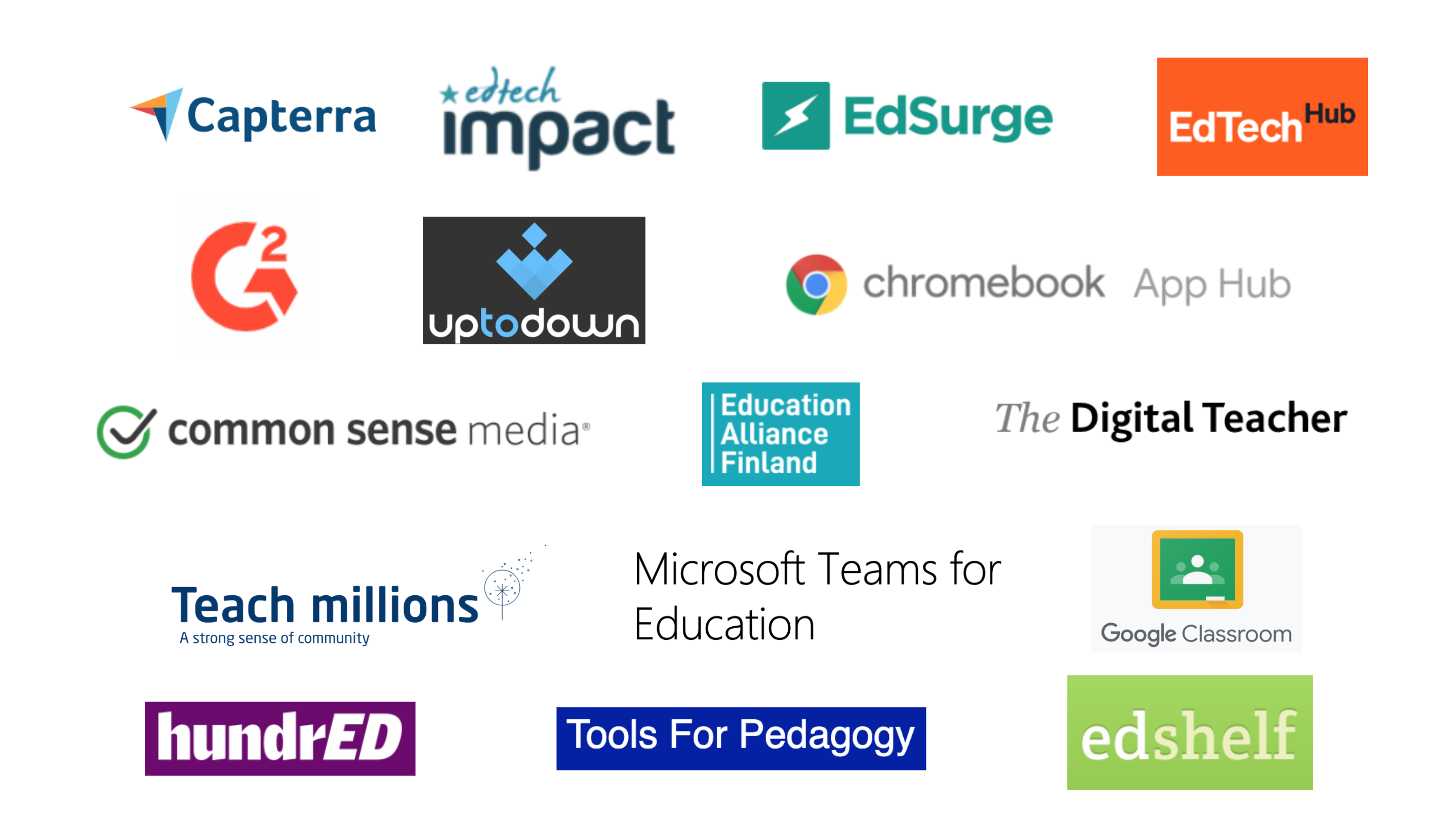 Before people buy a product, they need to trust it. The most scalable way to build trust is offering online product reviews of your solution. Teachers trust other teachers when it comes to reviews and recommendations of learning solutions (Deloitte Digital Education Survey 2016) .
In the consumer market 97% of consumers read product reviews when making purchase decisions. (PowerReviews).
There are tens of sites where EdTech companies can create a product profile and get reviews. Having online reviews is especially important for your SEO. This is crucial particularly for browser-based solutions, since they're not reviewed by app store users. For apps, a good review in app store is significantly improving the app's presence both in Google searches and searches in the appstores (Infidigit).  

Profiles in the review platforms provide cross links to your own sites, and reviews in EdTech related sites link your product to keywords relevant for you. This is both good for your SEO and the trust towards your solution is exponentially increased.
To help companies get their product listed on several sites we created a complete list of the most popular EdTech review sites. On most of these sites it's free to create a profile and in many cases it only takes a couple of minutes to do it. Definitely worthwhile to try to get your product listed on as many sites as possible. 
List of EdTech Product Review Sites & Catalogs
EdTech Impact (https://edtechimpact.com/how-it-works)
Common Sense Media (http://bit.ly/3smRHRl)
Knowstory (https://knowstory.com/)
Tools for Pedagogy (https://toolsforpedagogy.com/add-listing/)
HundrED (https://hundred.org/en)
EdShelf (https://edshelf.com/add-tool/)
EdSurge (https://iste.force.com/edsurgehelpcenter/s/article/How-can-I-add-my-comp...)
Capterra (https://www.capterra.com/vendors/sign-up)
G2 (https://www.g2.com/products/new)
Up to Down (https://en.uptodown.com/developers-zone)
Chromebook App Hub (http://bit.ly/39zft3Z)
Google Classroom (Requires integration to Google Classroom ecosystem http://bit.ly/35CNy20)
Microsoft Education (Requires integration to Microsoft Teams for Education - https://sdscrm.microsoftcrmportals.com/partnersignup/)
Teach Millions (https://teachmillions.com/#share-your-nordic-tech - Only for Nordic companies)
Digital Promise (https://digitalpromise.org/product-and-pd-directory/ - no instructions how to be listed, but you can contact the organization and make a suggestion via contact@digitalpromise.org)
The Digital Teacher (https://thedigitalteacher.com/reviews - no instructions how to get reviewed, but it's possible to contact the reviewing experts and offer your solution to be reviewed)
EdTech Hub (https://edtechhub.org/ - no instructions how to be listed, but you can contact the organization and make a suggestion via webform)
RateUsOnline (https://www.rateusonline.com/)
Education Alliance Finland - Catalog of Certified Solutions (EAF Catalog is only for products that have gone through pedagogical impact evaluation by EAF Evaluators)
Don't expect a massive traffic to come to your site (at least not immediately) through third party review sites. However, when people google your product and your competitor's product they will most likely choose the one that has more and better reviews on trustworthy portals.
References: 
Deloitte Digital Education Survey 2016