What Makes a Great Founding Team in EdTech?
October 6, 2021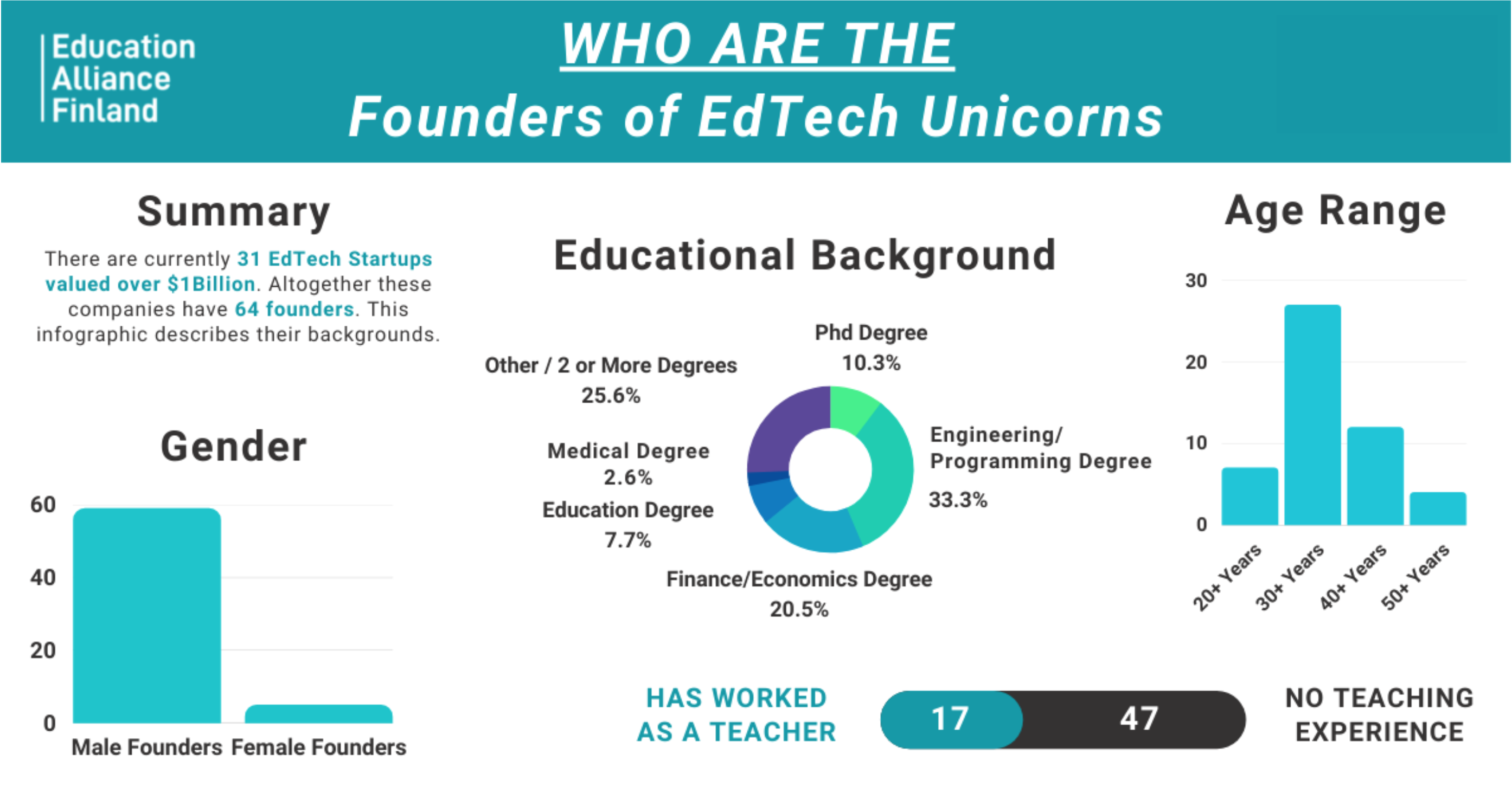 As we all know, the education market is enormous and it's almost impossible to understand how it's structured. Currently, people talk about hybrid learning, distance learning, homeschooling, and private tutoring. These segments alone include tens of thousands of solutions. But as you go through them, you can't help but think what's next? What are the next trends and groundbreaking products? 
Understanding the current product offering, and being able to analyze the future too is important for buyers, investors, decision-makers, and educators. When investing money and time into a learning solution, you want to pick one that lasts time. In an ideal situation, you will find the most innovative product that introduces a learning method that's better than anything else. In the worst-case scenario, you end up investing in a solution whose learning approach and technology gets soon outdated. 
The big question is, how to build such an understanding of the EdTech market, that you can comfortably choose a product and be sure you've made the right decision? 
What are the most successful EdTech Companies? 
Success can be defined in many ways, but an undisputed one is to look at the valuation of the company. In October 2021 there are 31 EdTech startup companies valued at over 1$ billion. 
A list of these EdTech Unicorns can be found on HolonIQ website. It contains info about each company's country of origin and their product's category. It doesn't include post-exit, acquired, or listed companies, but still offers a great viewpoint on the educational technology scene.  
It's enlightening to see, that there are very few companies offering a product for the K12 schools market whereas many offer upskilling, corporate training and private tutoring solutions. It possibly indicates how the business development in the school's sector is much slower than if you sell to private companies. 
Who Are the Most Successful EdTech Founders? 
Beginning to understand the EdTech market through looking at the most successful products is eye-opening. But even more inspiring is to see who are the people behind these unicorn companies. It's the people who make the difference when looking at how life-changing products have evolved in history, right? 
We went through all 31 unicorn companies and found out who are the founders, what's their educational background, age, gender, and connection to teaching and learning. The infographic on top describes the main characteristics of this exceptional group of people.
Gender Equality & The Ratio of Female Founders Among EdTech Unicorns
One of the findings was that among 64 founders, there were only 5 women. This is surprising because teaching profession and working in the education sector is globally more popular among women than men. For example in the U.S. about 76 percent of public school teachers were female and 24 percent were male in 2017–18. 
When looking at it from another context, the ratio does make sense. Female founders are generally rare in the software industry. According to Crunchbase, there are 212 417 software companies listed, and only 3.7% of them have female founders. Among EdTech unicorn companies the ratio is 7.8%. 
A company that stood out as the only fully female-led was Guild Education, offering workforce upskilling. It's founded by two women, Rachel Romer Carlson and Brittany Stich. 
Are the Best EdTech Innovators Former Teachers? 
Former teachers are quite rare within EdTech unicorn founders. According to the data, if you want to invest in a future EdTech unicorn, you're more likely to make the right bet if the founding team includes at least one programmer. Out of 31 companies, there were only 11 that didn't apparently have an engineer among the founders. Another popular degree among unicorn founders was MBA or finance degree. 
Even though very few founders had a degree in education, 17 founders had experience working as a teacher. Most commonly the founder had teaching experience from a university or from private schools/tutoring. Only a few founders had worked in public schools or the K12 sector. 
One company that distinguished with the founders' educational and working background was Newsela, whose founder Matthew Gross has a B.S. degree in music and had worked as a music teacher. 
Should Friendship and Business be Mixed? 
The highest valued EdTech Startup in the world, Byju's is founded by a married couple, Byju Raveendran and Divya Gokulnath. A few companies had been founded by siblings, for example ApplyBoard (three Basiri brothers), music education company JoyTunes (Yuval and Yigal Kaminka), and iTutorGroup (Eric and Ming Yang). 
As also Go1 from Australia was founded by closest childhood friends, Andrew Barnes and Vu Tran, it seems that people who are close can also build great businesses together. 
What Can We Learn From the EdTech Unicorn Founders? 
The founders' data suggests that you don't necessarily have to be an expert on learning or pedagogy in order to build a world-changing education company. However, all of the founders had studied at the university, the vast majority had a B.S. or Masters degree, six founders even a Ph.D. degree.
Having spent 12+ years in school gives you a lot of perspectives to come up with ideas on how to improve learning and studying practices. And it's very obvious that if you know how to program, it exponentially increases the odds you can build something remarkable.
It's also noteworthy that the majority of the founders are under 40 years old. As these companies are 5 to 15 years old, the founders have started to develop their product at a very young age, many started already when still studying.