Mobile App or Browser-Based - Which Works Best In EdTech?
February 18, 2021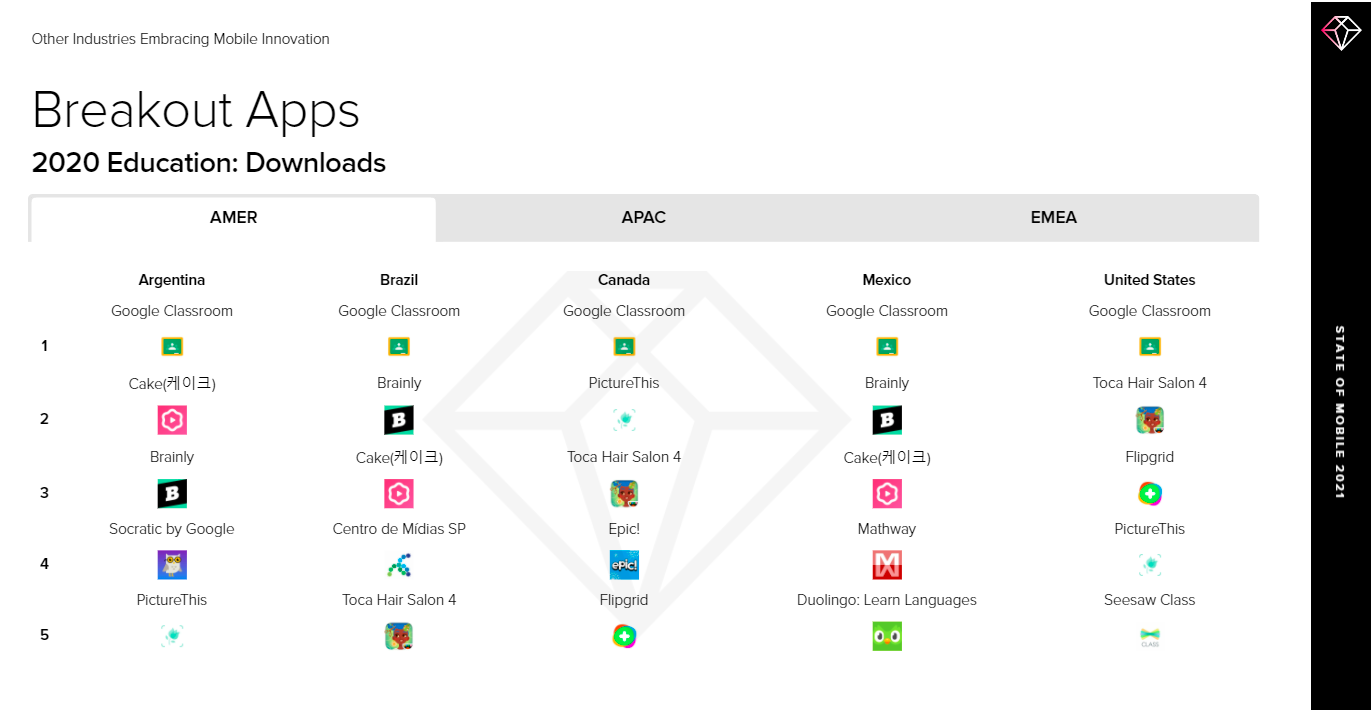 Image: AppAnnie State of the Mobile Report 2021. 
All EdTech companies have faced this question at some point: Should your Edtech solution have a native mobile app or should you stay browser based?
We looked into AppAnnie's State of the Mobile report 2021 to understand the business benefits of offering a native app in education.
Growth in mobile use in EdTech
According to the report, use of mobile apps took a huge leap in 2020 globally, both in amount of new app downloads and in time spent on mobile devices. In the Education category this meant 25% global growth (YOY) in downloads and 45% in consumer spend.
This is hardly surprising,  given that everyone agrees that 2020 was crazy for Edtech. Due to the pandemic, the world turned to distance learning and digital learning solutions, and saw a huge spike also in investment in Edtech, largely driven by investments in China (Metaari Market Research, Holon IQ).
LMS's and casual learning as breakout apps
In the Education sector's big "breakout apps" list, App Annie has ranked apps based on the amount of new downloads.
The listing shows that in 2020 Google Classroom was dominating the charts in all market areas. This might indicate that schools are moving to holistic online learning environments such as Google Classroom only now, when they are forced to. This view is supported by listing Flipgrid (a video learning tool) and Seesaw (LMS)  as breakout apps in several English speaking market areas and for example Moodle in Germany, although they all have existed for a long time.
In China, the leaders in the list are Tencent Classroom and Yuanfudao. Both offer massive amounts of online learning content, and Yuanfudao "The Worlds Biggest Edtech unicorn" just raised US$2.2 billion of funding (Jumpstart). In general, use of mobile devices saw a huge growth in China.
Like Yuanfudoa, many of the apps are targeted to individual home learning; language learning and quiz apps such as Brainly and Cake app are listed in several market areas. This is even more obvious when looking at data on top downloads and top grossing apps, where apps like Duolingo or Toca Boca's playful learning apps have a constant place.
Educational publishers' EdTech solutions
Content from traditional educational publishers is missing from the list almost all together. The only one listed in the breakout apps is Reading Eggspress Student by Australian Blake Education, which is a companion app to their e-book material. In the top 50 rankings, the publisher apps are even more scarce, although many publishers, such as Pearson or Scholastic do have apps.  This is inline with our own findings in EAF -  publisher material is mainly browser based, and the apps are companions to the books and e-books, so their download numbers are left small when compared with systems where usage of the app is necessary and daily, such as LMS's.  
Should EdTech companies invest in mobile app development?
Seeing that people are spending more and more time on mobile,the answer is probably yes. An app can give your learners a more convenient way to access your content, or it can complement your other content.  However, the consumer market is  fairly competitive, and not only inside the education category. In Gaming category Roblox and Among us gained huge download numbers, and both are popular with children and used in education as well. They offer polished and engaging user experience, and especially Roblox is taking the privacy and safety of their child users into account in a manner that many educational companies could learn from. 
In the app world, even a niche phenomena can gain unexpected lift. PictureThis has gained a place in several countries' breakout app list - US, Argentina, Japan, Germany and UK to mention a few.  It is an app for plant recognition and learning about nature. Perhaps because of the increased online learning in 2020, people have found new fascination with the outdoors.
Sources
App Annie's State of the Mobile 2021 report
Metaari Market Research Summary