Market Study on Language Learning Solutions
April 11, 2019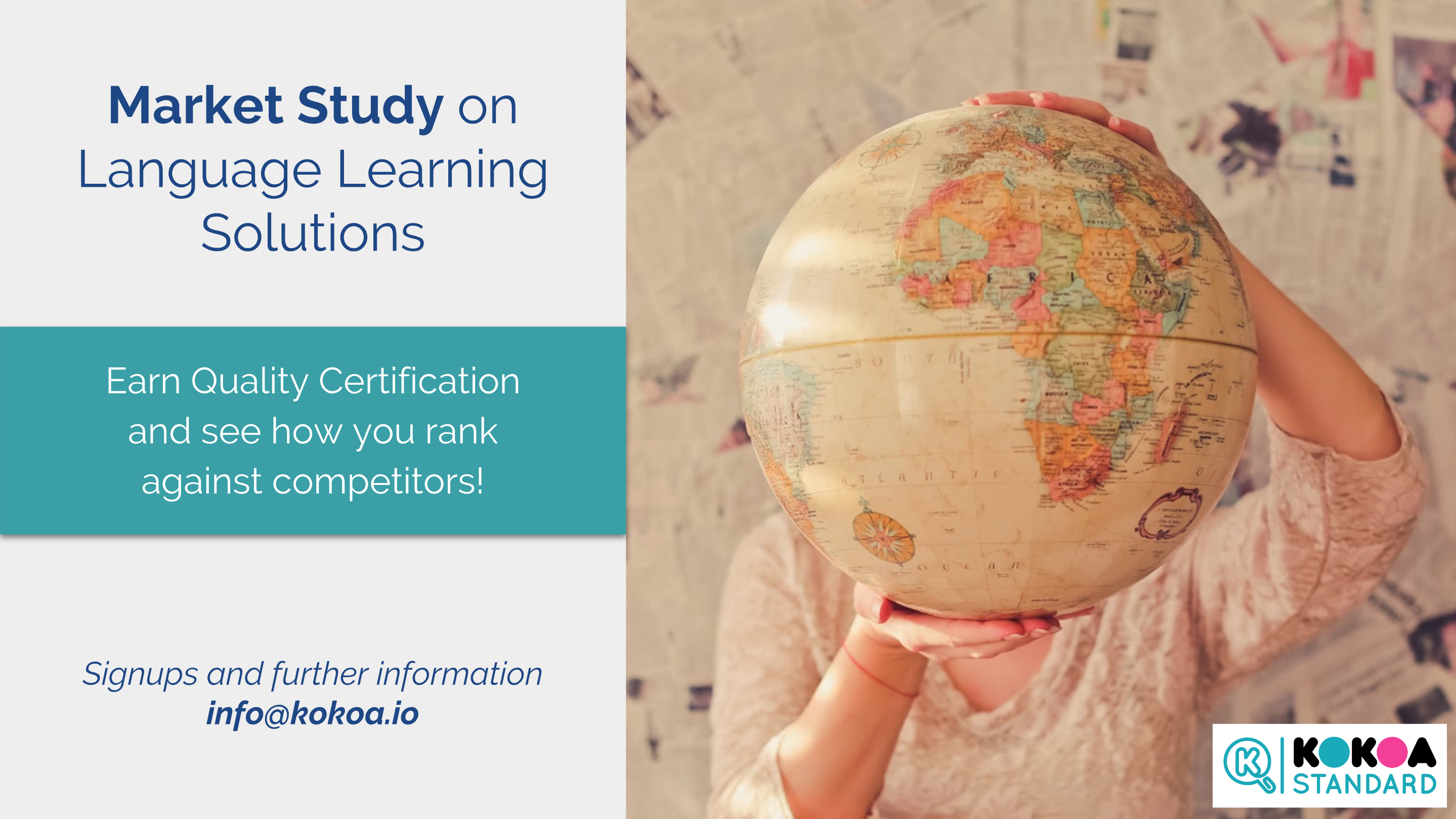 The application period for language learning solution market study and EdTech product certification opens
Our next market study will focus on language learning solutions. When looking at the subject, we saw that there are a large number of solutions for different purposes. In our study, we decided to group them under four categories:
1. Independent learning
The learning solutions in this category are targeted to people, who want to learn a new language or practice their skills independently. 
2. School solutions
This category is for solutions targeted for schools and respond to the needs of different national curricula and school systems. 
3. Pre-school language learning
This category is for solutions that teach languages to young children through digital games and playful activities.
4. Online-tutoring
The pedagogy of online-tutoring services is evaluated based on the quality of the material and structure they provide to their tutors.
How the EdTech product evaluation & certification process is conducted
The solutions will be assessed with science-based impact evaluation method and benchmarked against each other with respect to their pedagogy, curriculum alignment, and usability.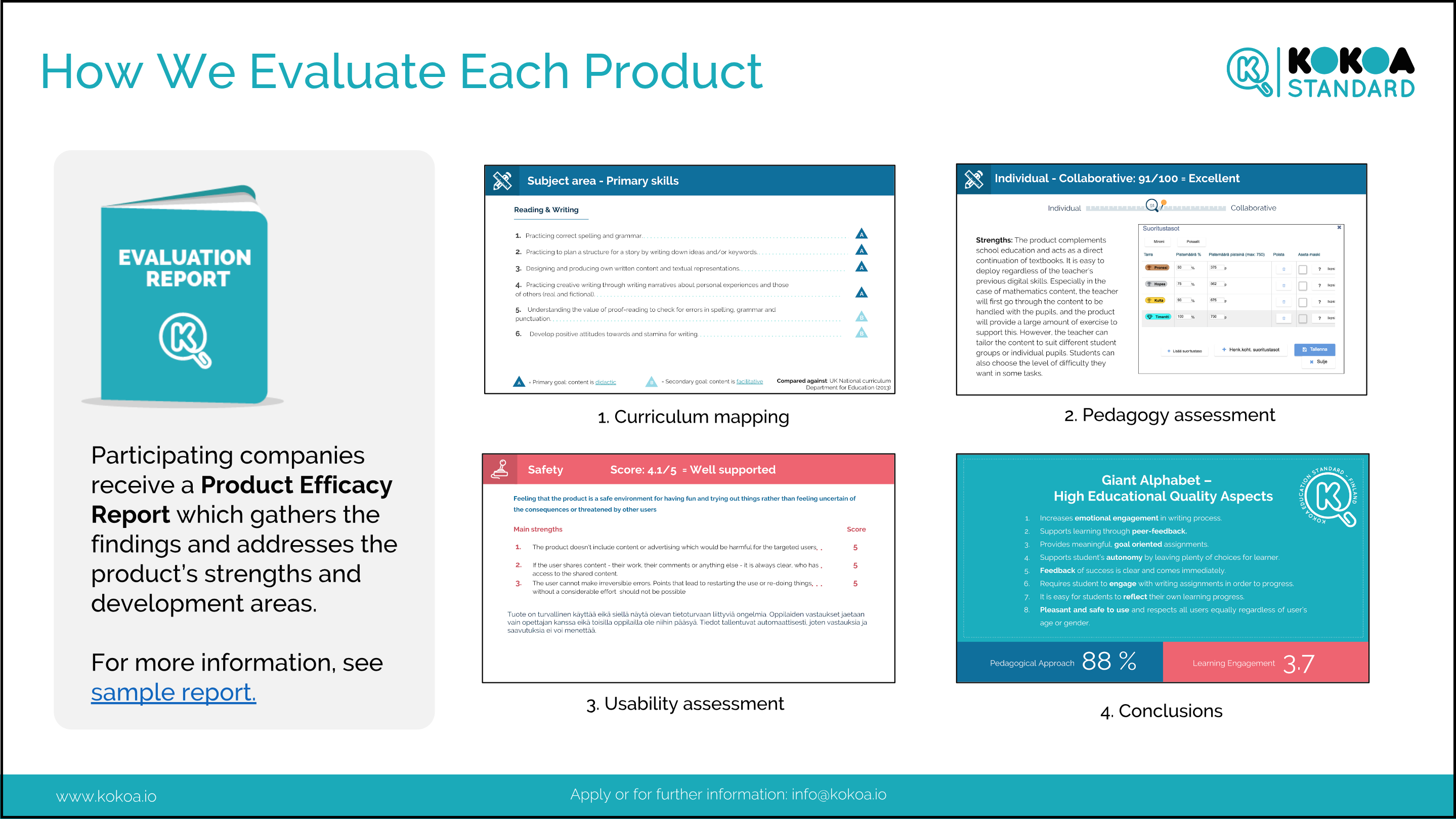 As every participating EdTech product goes through a rigorous learning impact evaluation, and the Finnish Educational Quality Certificate is issued to all EdTech products that meet the science-based standard.
The product evaluation & certification process includes the following:
1. mapping the product against the curriculum,
2. assessment of the learning product's pedagogical approach,
3. assessment of product's usability.
The EdTech evaluation is done through peer-reviews by Finnish teachers. The outcome is a +40pages report which is gone through with the client over a 1-hour session.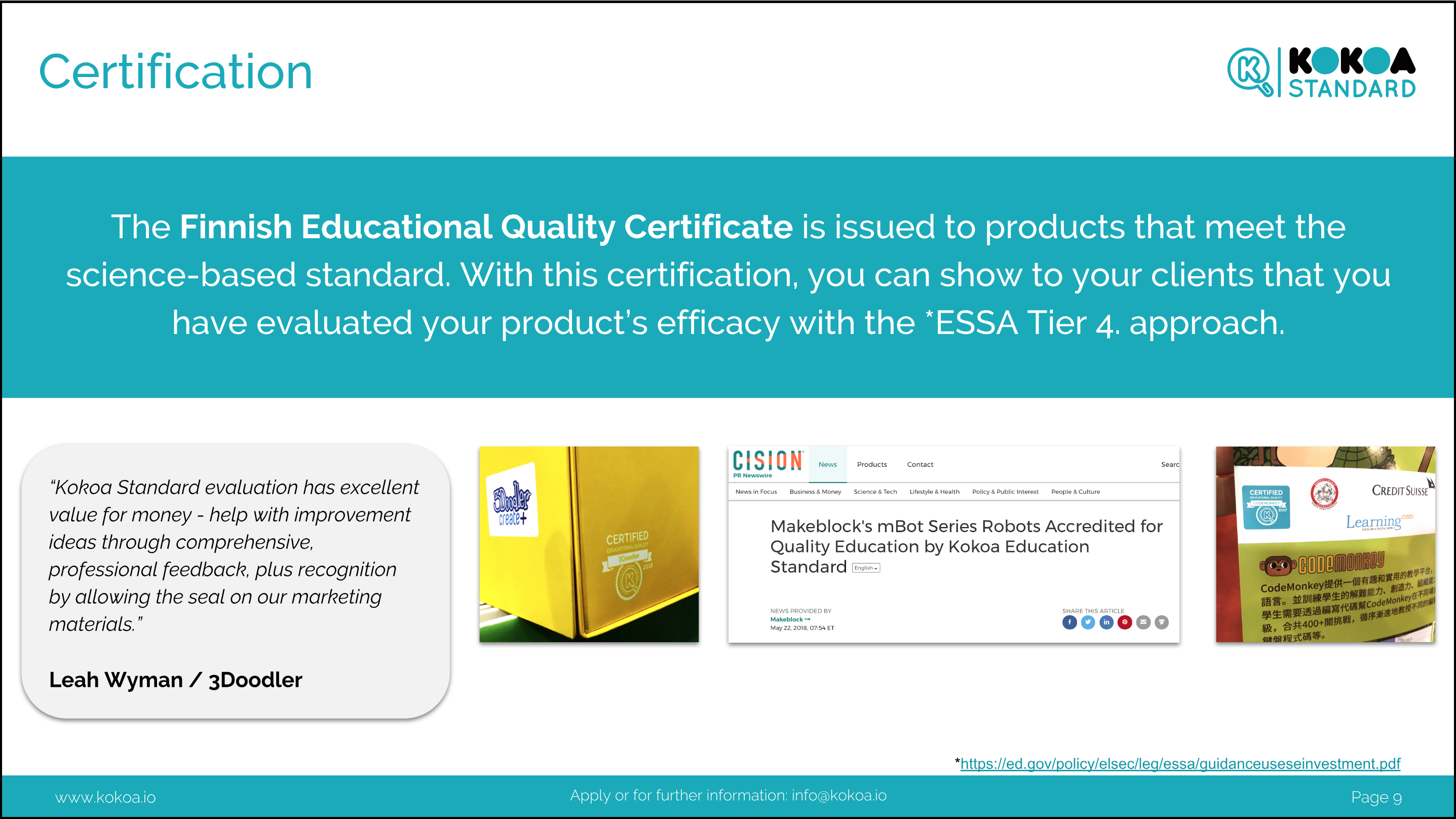 The products are left anonymous in the rankings, but the categories' top-ranking products are named. Each participant can see how their own product ranks in different categories.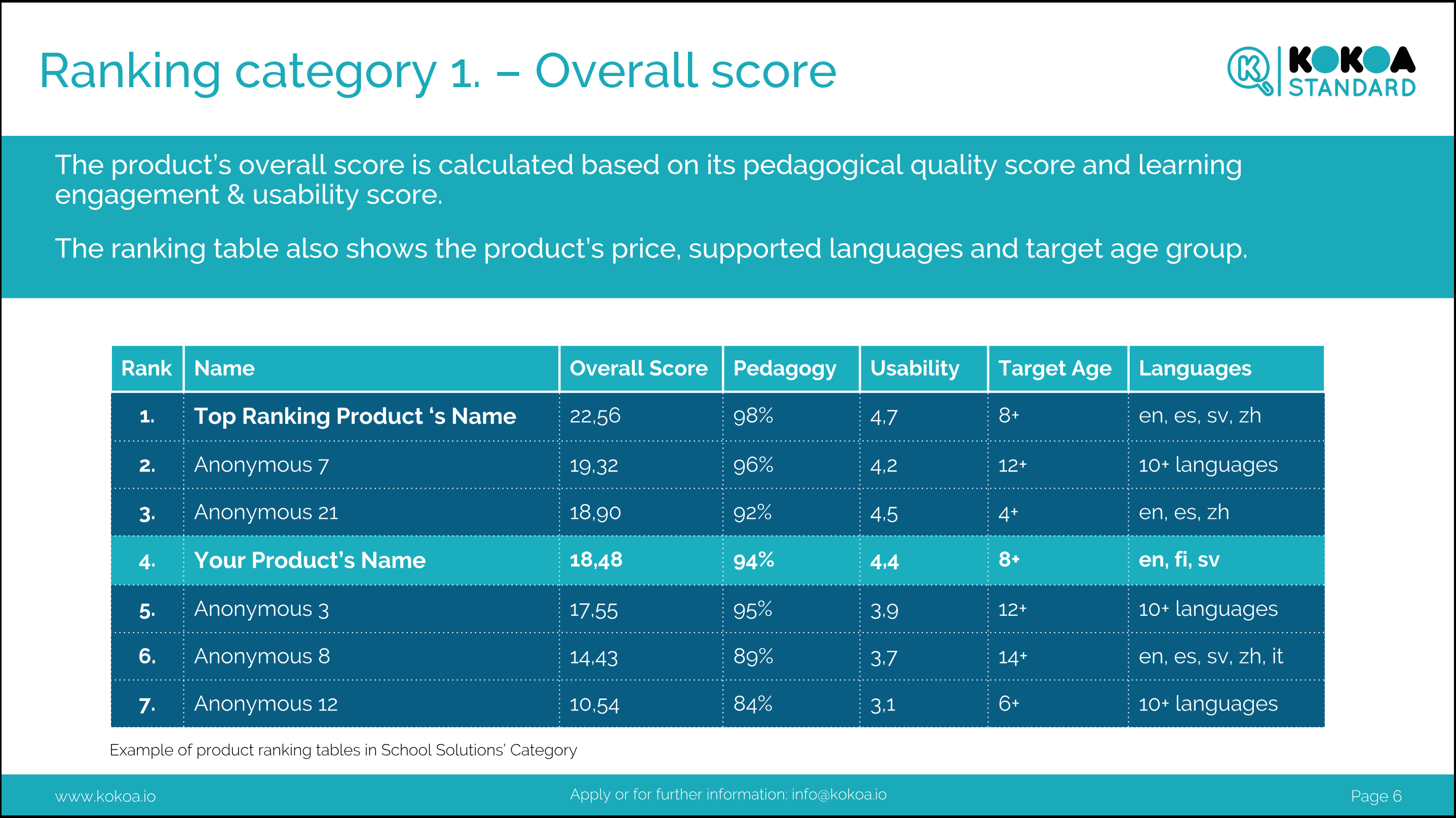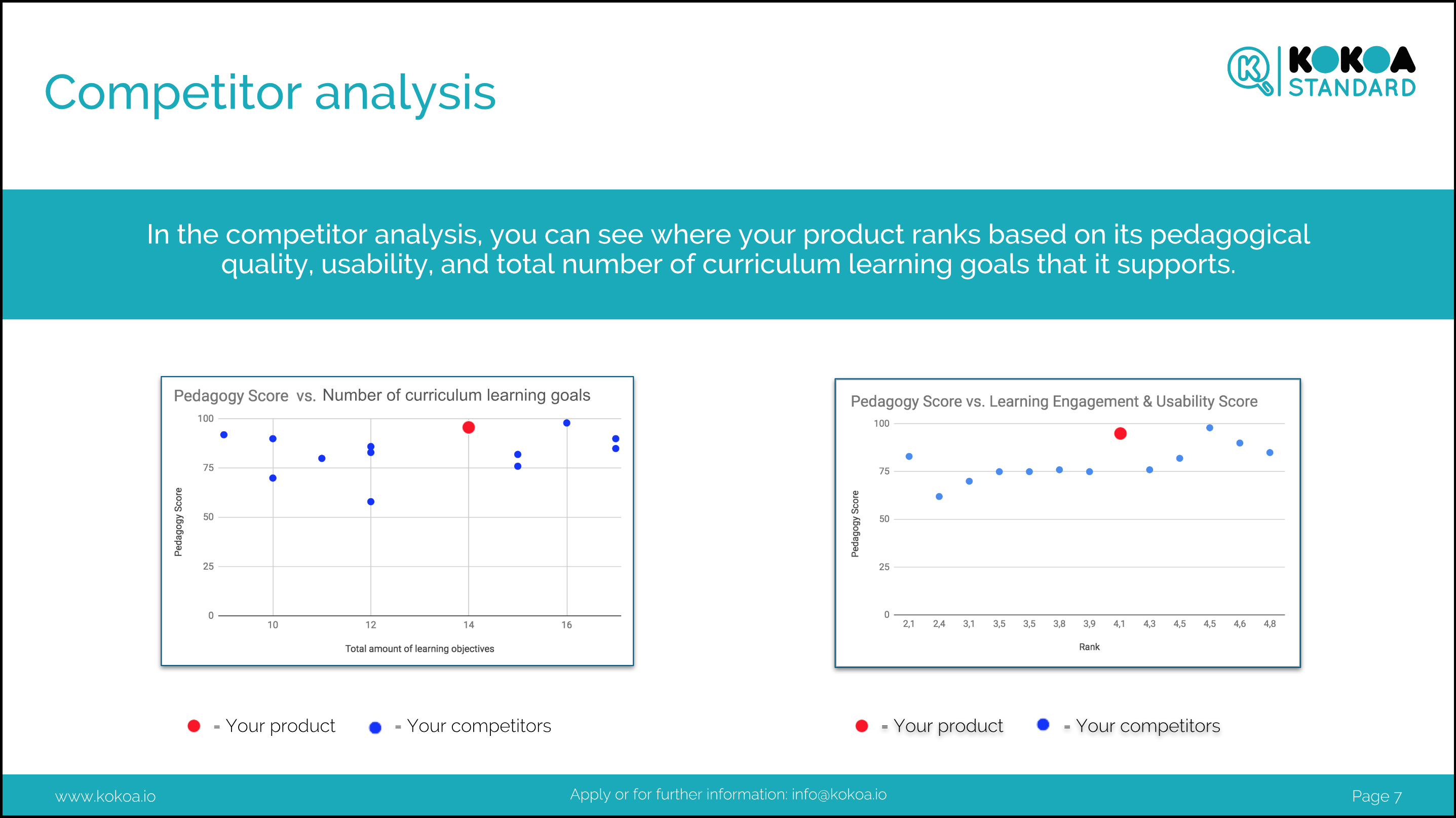 Participation in the study offers a trustworthy and agile way for getting the evidence of your product's learning impact and seeing how it ranks against its competitors.
The application period is open until the 1st of May.
If you're interested in enrolling your product or would like to know more, contact us at info@kokoa.io or call +358407576961.