List of EdTech Accelerators
April 7, 2021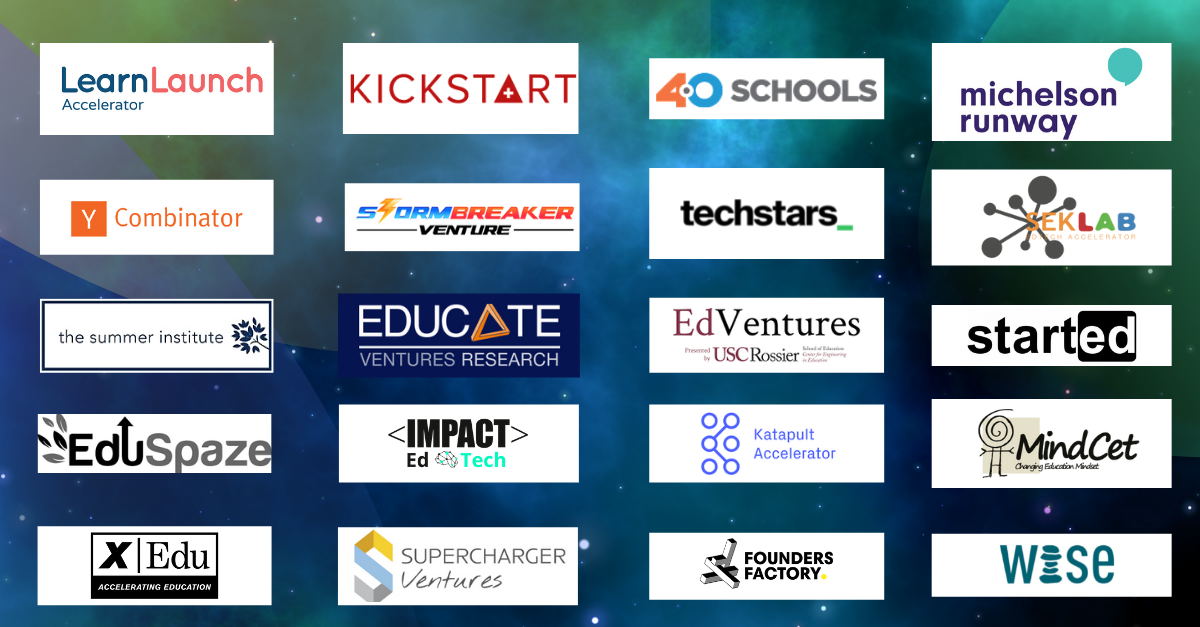 Over the years EAF has been working closely with several EdTech accelerators, including xEdu (Helsinki), EduSpaze (Singapore), WISE (Qatar), StartED (New York), and most lately the EdTech Incubator Helsinki. Along the way we've gathered a bunch of insights on what are the potential benefits that EdTech companies can gain through participation in an acceleration program.
 
To assess if accelerators have an affect on EdTech company's success potential, we went through portfolios of quite a few providers and learned that for example Nearpod (StartED), ClassDojo (Y Combinator), and CodeMonkey (Mindset) have joined acceleration programs earlier in their journey. 
 
However, those companies that have become household names are still very rare among accelerators' alumnus. This makes sense since it takes about a decade on average to build successful EdTech company.
 
Why to apply for an Edtech accelerator?
Antti Korhonen from xEdu has described that the accelerator journey is like an MBA program for companies. On their study journey the startup grows their network of industry's key people, and improve their industry understanding to develop the strategy for success.
Most valuable new contacts are normally EdTech focused investors. When talking with EdTech companies, raising investments is the commonly mentioned reason why they decided to apply for an accelerator. Some accelerators themselves also make a small investment in companies that they have selected.
Besides investment opportunities, new contacts can help with product development and sales. Many education accelerators offer mentorship around pedagogy, learning impact measurement, and instructional design. Education Alliance Finland, for example, has provided pedagogical impact evaluation for the accelerated companies at EduSpaze and xEdu, and hosted Learning Efficacy Workshops for WISE Accelerator Cohorts.
From the sales perspective, joining an accelerator program can work as a kickstart for entering a new market. You get introduced to local decision makers and gain insights of your customers' needs and preferences. And if you manage to get a local VC or angel investor to hop on board, they probably have a widespread network of valuable local contacts that you now have access to.
How to Benefit the Most From Joining an Accelerator Program? 
As we know, especially in the schools' sector, education is heavily local. In order to penetrate a new market, you need to fully understand the local circumstances (curriculum, language requirements, procurement processes, key contacts, etc.)  – and make sure your solution meets the local needs. Accelerators are normally good at providing you with that information and putting you in contact with the right people.
For a successful accelerator experience, it's crucial that the EdTech startup finds a program that suits their needs. Whether your main goal is to expand to a new market, raise investments, or find new clients, it's worthwhile to learn about different programs and what they have to offer. Naturally, the timing needs to be right for you, and most of the accelerators run two programs per year, in parallel with school semesters. In order to make the most of your journey, it's important that you only join when you're able to dedicate enough time for the program activities. 
Since a comprehensive list of EdTech accelerators was missing, we decided to create one. We hope this helps you to evaluate options and guide your way to develop your product and business to the next level. The list includes providers that solely focus on EdTech only, but also ones that have several themes, education being one of them. 
List of EdTech Accelerators
NOTE: If you see any important EdTech accelerator is missing from the list, feel free to let us know and we'll add it there. 
Joining The Acceleration Program Remotely
In 2021-2022 many of the listed programs can be joined remotely. This provides an excellent, lower-risk opportunity for EdTech startups to participate, since the time & money investment is significantly lower. If you've considered applying, now it's the right time to learn more about the different opportunities and submit your application either for this spring or next fall cohorts.