Kokoa Standard becomes Education Alliance Finland
June 18, 2019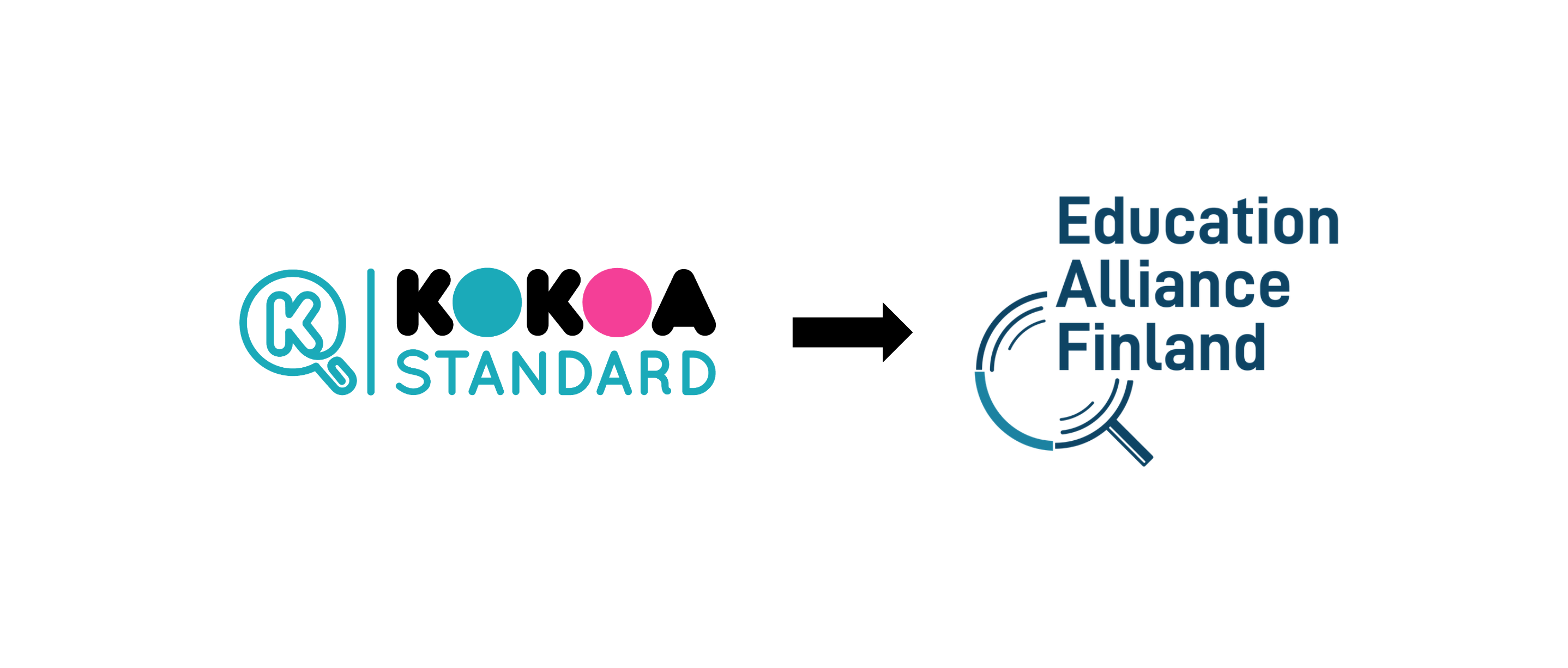 Renaming the EdTech Certification Body
Beginning of the next week we start issuing EdTech certificates under a new name, Education Alliance Finland. We're changing our name to reflect the evolution of our company and the way how each EdTech product  evaluation & certification is conducted. 
Current Kokoa Standard EdTech Certificate holders can continue using their quality certificates, but we strongly recommend to update your certificate with the brand new Education Alliance Certificates, as we send them out to certificate holders soon. Here's how the new company logo and the new edtech certificate badges look. 
As you might wonder why we're changing the name, we're listing a few reasons.
The Enhanced EdTech Product Certification Process
In 2019 we've launched a new model where several teacher-evaluators conduct the product evaluation independently on our evaluation platform using our science-based method. We work as administrators who confirm and compile the results, report the findings to the client who ordered the evaluation and issue the EdTech product certification when a product passess the certification threshold. 
The new evaluation & certification model has increased the validity of the findings and broadened the EdTech evaluation perspective. This also allows better scalability compared to the previous situation where all EdTech product evaluations were done by Kokoa's in-house team members.
Currently we have a group of 60 carefully picked and trained Finnish teacher-evaluators who we work with. With this teacher community, we are able to evaluate & certify a wider range of learning solutions and edtech products by having experts in many fields of education. We're really proud of the quality of the product reviews we've been able to achieve with these truly professional teachers from all around Finland.
The Origin of the EdTech Product Certification is Better Communicated
We have just finished our impact research, for which we interviewed some of our clients about where and how they utilize their Kokoa Standard certificates. One of the findings was that many felt necessary to explain the background of the issuer, Kokoa Standard, as it is not self-evident for most.
With the new name, Education Alliance Finland, we aim to state it clearly, that each certification is based on the work of an alliance: 1. Finnish teacher-evaluators who conduct product audits, 2. Finnish educational researchers who have designed the evaluation method, 3. Impact evaluation platform, which is run by us. 
Enhanced Credibility of the EdTech Product Quality Evaluation & Certification Process
EdTech Product's Quality Certificate is a great asset for EdTech companies and EdTech Startups to demonstrate the high quality of their learning products to potential buyers. As education sector operators are globally formal and conservative, we trust that our quality certificate's descriptive name will gain credibility among the buyers of educational products. 
One of the main reasons why EdTech companies around the world turn to us for teacher feedback is that it comes from Finnish teachers. Finland's education system is globally recognized and highly appreciated. It's often stated that the cornerstone of the quality is the pedagogical expertise of Finnish teachers. With our new name we're able to communicate it much better that this exceptionally high pedagogical expertise that Finnish teachers have is behind every EdTEch certificate and EdTech product review that we do.