Introducing OPUS - A New Framework for EdTech Design!
December 9, 2021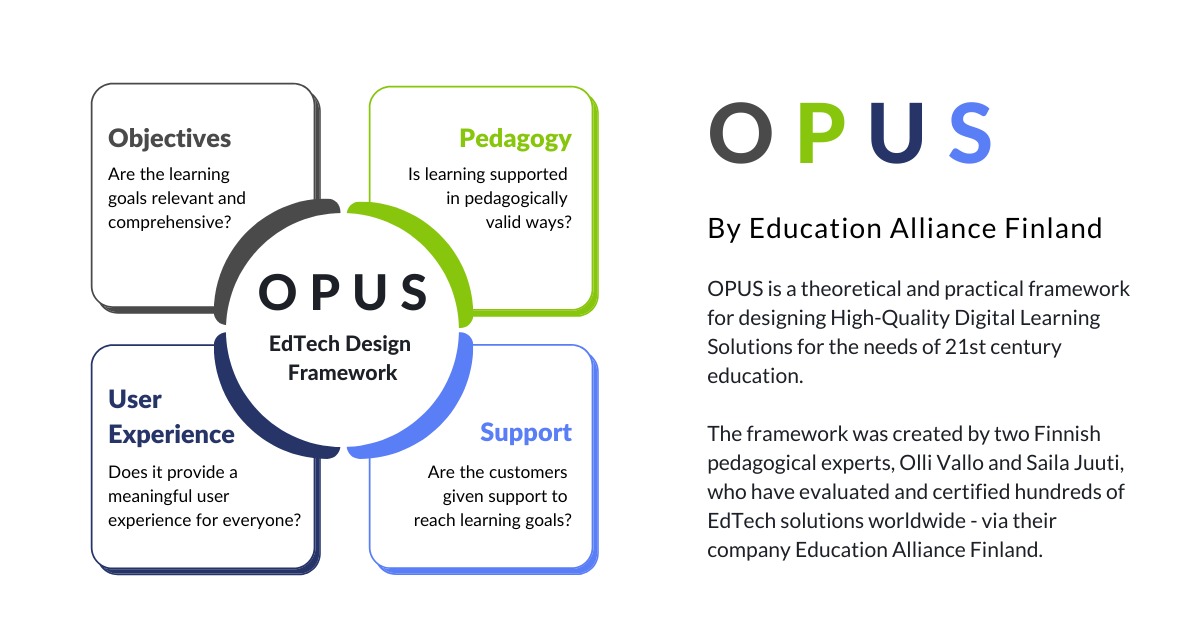 "Well-designed educational solutions have the power to foster or even transform goal-oriented learning pursuits, but not without good pedagogical design. Therefore, the design process should take into account the research on learning and pedagogy and pursue to implement good practices in order to promote and support learning." (Hietajärvi & Maksniemi, 2017)
After evaluating hundreds of educational technologies over the years at EAF, we've noticed a few things companies should take into account when designing high-quality solutions for 21st century schools, educators and students.
An EdTech product's main goal should be to improve learning outcomes, and sometimes it can feel difficult to reach such big expectations – or describe what is the concrete educational value of your product. Therefore EAF created the OPUS Framework (Objectives, Pedagogy, User Experience and Support) which guides EdTech developers with creating high-quality solutions, and provides tips on how to outline your value proposition.
Information, Tips and Resources for EdTech Enthusiasts
From our recently launched OPUS website you'll find more in-depth information of different aspects of EdTech design: Objectives, Pedagogy, User Experience and Support. We believe that taking these into account at every stage of development will result in pedagogically and technology-wise more high-quality products.
The page Why EdTech? contains info and tools that guide you with describing the value proposition and key benefits of your EdTech solution. This can help you with the marketing, sales and even future business strategy!
In Resources we share beneficial EdTech industry articles, research and websites. It's a data-bank that we expand every week, so be sure to check it out every now and then! You can also suggest new EdTech resources to us – and we'll add it on the website.
Give us feedback on OPUS or tip a resource by emailing: info@educationalliancefinland.com! You can also contact us on Linkedin!