How Certificates & Diplomas Can Be Used in EdTech Marketing and Sales
November 17, 2021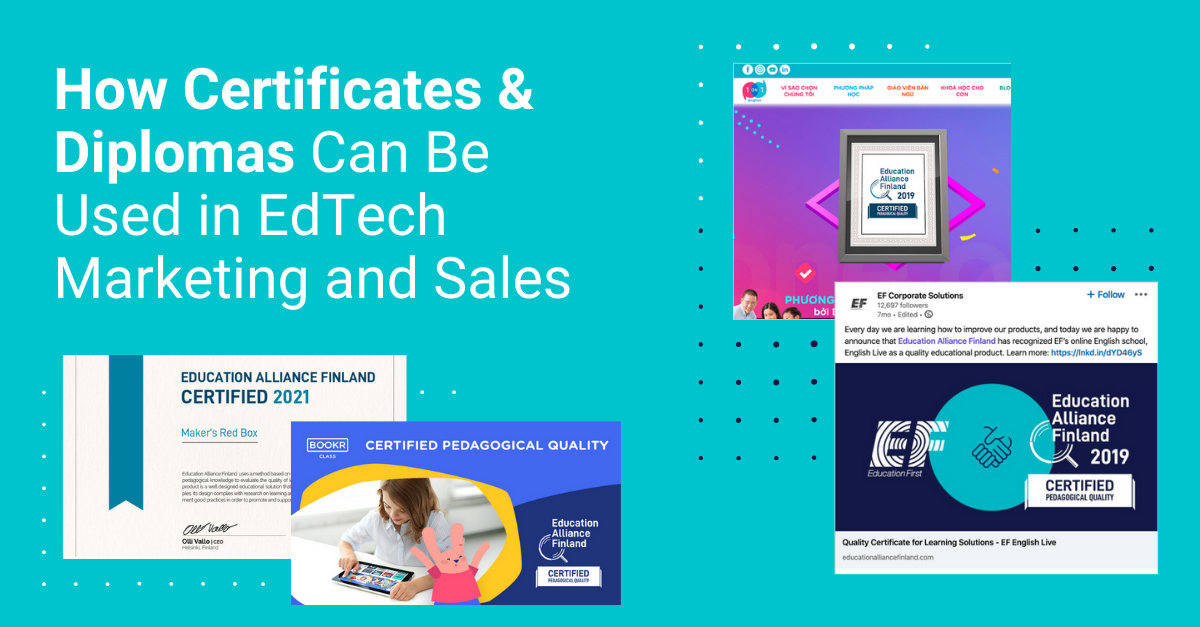 Certificates are used in many industries to serve as a proof that the product meets certain quality criteria. In education, the most important aspect regarding a product's quality is that it truly works in improving learning.
Through certification, it is possible to explain in a standardized way, how the solution enhances learning. Other major benefits would be:
Certificate serves as a documented proof that the product meets certain industry criteria or customer requirements. And in some cases, getting a certification is mandatory!
Competitive advantage: it makes the innovation stand out from substandard products and shows that the company isn't giving out misleading information.
It provides unbiased proof that the product was developed properly e.g. via testing in a controlled environment and with the help of professionals.
Objective evaluation and feedback aids the development of a product. And helps the company to avoid the possibility of getting rejected because of a poorly functioning product.

Investors appreciate opinions from different parties, and often look for concrete proof of the EdTech solution's impactfulness.
And what's more, testimonials & diplomas support and guide customers when they purchase products or services. Therefore certificates make an excellent marketing tool; they are a guarantee of safety, reliability, quality - and prove that the customers don't need to bother with doing as much background research or testing out the product extensively.
With our certification service, Education Alliance Finland gives educators, schools and other users of EdTech reassurance that the educational products they procure, follow up on everything that was promised. Below we listed a few examples how certificates can be used in marketing and sales of high-quality EdTech solutions.
Public Tenders
Depending on where your company was established, you might have the right to compete for a public tender. This is the case for example for companies, organizations and institutions that are located in the EU; they can compete in all countries within the union.
The goal of the tender process is to gather information that allows the purchasing organization to compare offered solutions against each other.
Some tenders include product audit, where experts evaluate the actual products, and sometimes the decision is based on documentation only. Therefore it's important to be able to demonstrate the solution's high quality even if it's not tested as part of the process.
Building Trust Through Communication
Business literature talks a lot about the connection between communication and building trust. Trust is also the main determinant  of a committed relationship; it is hard to imagine  building serious business relations and partnerships without trust.
Open and transparent communication is also a factor in increasing the satisfaction of customers - and displaying positive company values. Showcasing testimonies and certificates on the company website, social media, press and other marketing channels is the easiest way of communicating to customers: you can trust us!
From the customer perspective, also sharing information of the certification provider makes it easier to understand why the company decided to acquire their stamp of quality and feedback. A blog post, video and other materials with a link to the certification body, help to point the customers and other audiences in the right direction.
Excellent marketing content like this, is sure to pique the interest of potential clients, partners and investors:
Evidence Subpage
BOOKR Class Earns Prestigious Certification from Education Alliance Finland
NetSupport School: The Evidence
Blog posts
It's official: Maker's Red Box rated "excellent" by Education Alliance Finland
Our simulations with EAF quality certificate!
It's official! Education Alliance Finland recognizes Photon Education with an official certification!
Press Releases
Classroom.cloud Earns Prestigious Certification from Education Alliance Finland
STEMWerkz Certified for High Education Quality by Education Alliance Finland
Commitment and Long-Term Orientation
The education sector is typically a slow-paced industry where the strong operators are local, traditional companies. Some educational publishers have served schools for decades or even centuries in their home market.
For schools it's easier to trust an operator that has delivered working solutions for several generations. Normally the publishers' school books are also created by local teachers, which is another trust increasing factor.
When entering the education market as a new operator, it's important to demonstrate a similar type of long-term commitment to product development, customer service and so on. Agile startups have renewed many industries, but sometimes new companies have trouble following the traditional way of doing things.
Co-development with clients and trustworthy accreditations are good ways to show your commitment to providing quality and building a long-term operation serving your clients. If you manage to involve teachers, learners and end-users to be part of your product development, you'll be sure to learn something new - and are able to build more stable customer-supplier relationships.

Above a few examples how previous clients have utilized the EAF certificate and evaluation feedback in their marketing.
Sources:
https://www.government.nl/documents/questions-and-answers/how-do-i-benef...
https://ansarcomp.com.my/index.php/2019/06/20/what-are-the-advantages-of...
https://www.researchgate.net/publication/324753666_The_effects_of_qualit...