EAF Is Launching a New Certificate to Support Equality!
October 28, 2021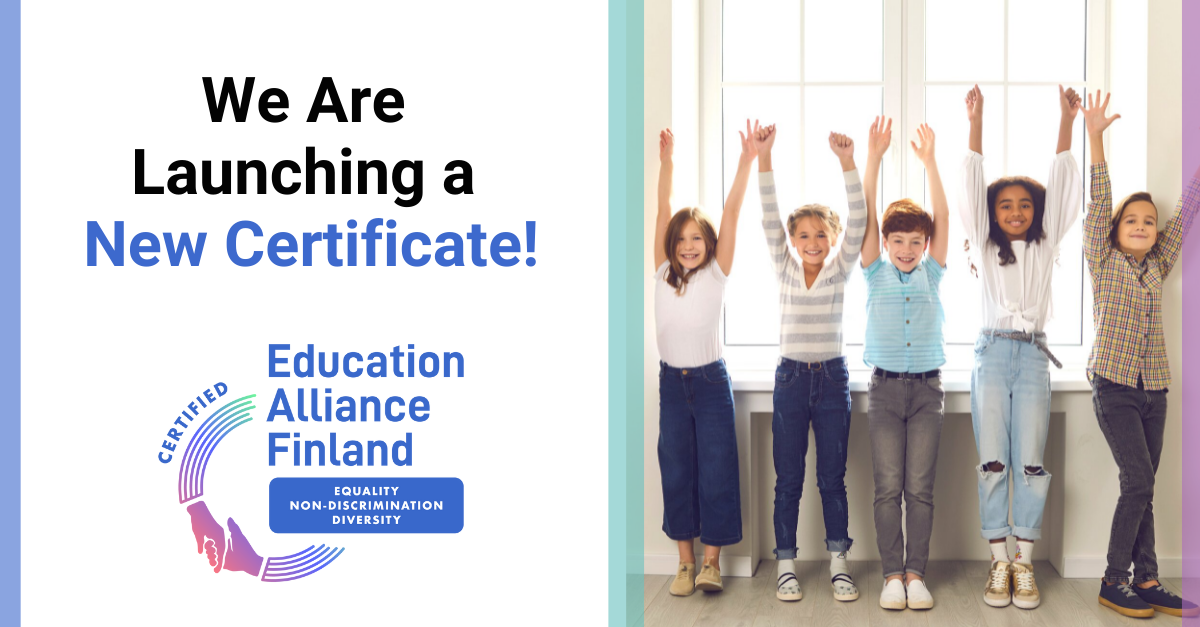 "This educational product takes into account issues related to equality, diversity and non-discrimination in a consistent and comprehensive manner."
Could we be talking about your product in this quote?
Promoting Equality in Education
Our interest in promoting equity stems from personal experiences in the field of education. Each student should feel welcome and appreciated at school, regardless of their background, gender or capabilities. We've noticed that education materials often include both open and hidden messages that influence students' thinking about their place in the world.
Therefore, after focusing solely on pedagogical evaluations for years, we are happy to announce that Education Alliance Finland is launching a new certificate!
Equality, Diversity and Non-discrimination Certificate
1) EAF's third-party audit evaluates learning materials or a children product's content from the perspective of equality,  diversity and non-discrimination.
2) It provides feedback to companies on how well their product addresses these three themes or advocates for equality, diversity and non-discrimination - and reveals what open or hidden messages it sends to children.
3) EAF and our new certification service aims to promote equity in education; and in other fields that affect the thinking and attitudes of children. Understanding people's different lifestyles, backgrounds and inherent qualities is crucial for creating a more peaceful society and helping a child to develop better social and emotional skills – like empathy, collaboration and communication skills.
Who is the Equality, Diversity and Non-discrimination Certificate for?
Learning materials, children's media and entertainment, games and even toys can benefit from our third-party audit, insightful feedback and the official certification. The EAF method evaluates representations in pictures and stories, life lessons the product teaches and the included games and exercises.
The certification process will be led by EAF, and our in-house trained evaluators will conduct the evaluation after they've gained access to the content. The process is agile and rigorous – and produces a lot of insightful data that helps to guide the product's further development.
Our evaluation and certification enables solution providers to stand out in the market as forerunners in promoting equity - and it also works as a stamp of approval!
In the future we will reveal more in-depth how the certificate came to be, and which types of materials have been certified so far.
But for now, you can reach out to us directly to find out more! Evaluation inquiries:
info@educationalliancefinland.com.