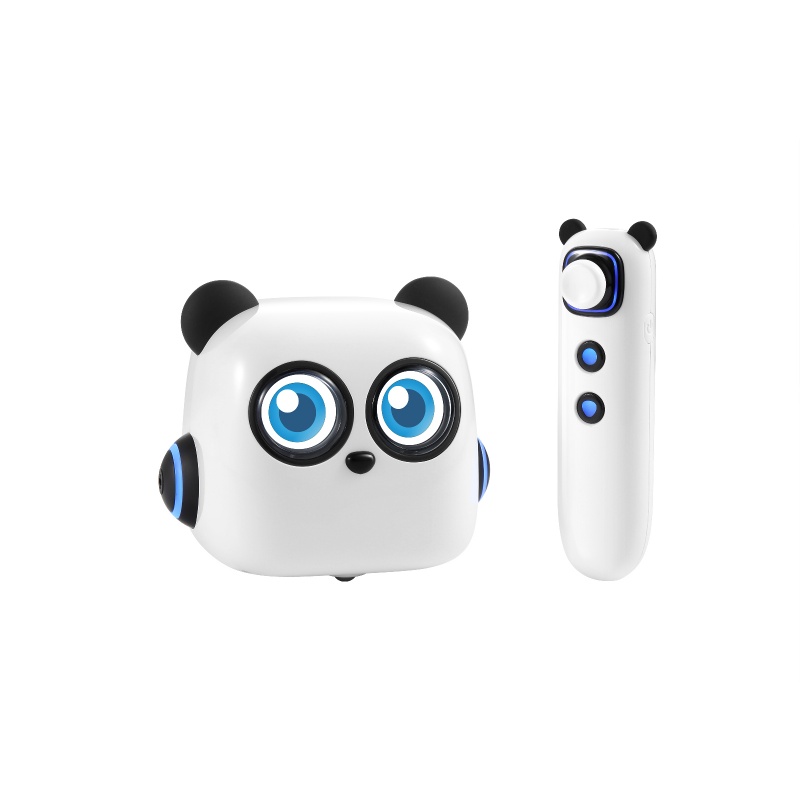 mTiny
Programming for Early Education
mTiny is a programmable, interactive robot for early education at schools and homes
mTiny is an early education robot for children growing up in the digital age. Its Tap Pen Controller is a coding tool that exercises children's logical thinking and problem-solving abilities. It uses coding cards and various themed map blocks to guide the child in exploring, perceiving, and creating through highly interactive, stimulating, and fun games. The continuously updated mTiny toolkit also fosters children's interest in learning in math, English, music, and other subjects, and keeps them inspired.
Languages
English
Simplified Chinese
Platform
Non-digital product
Other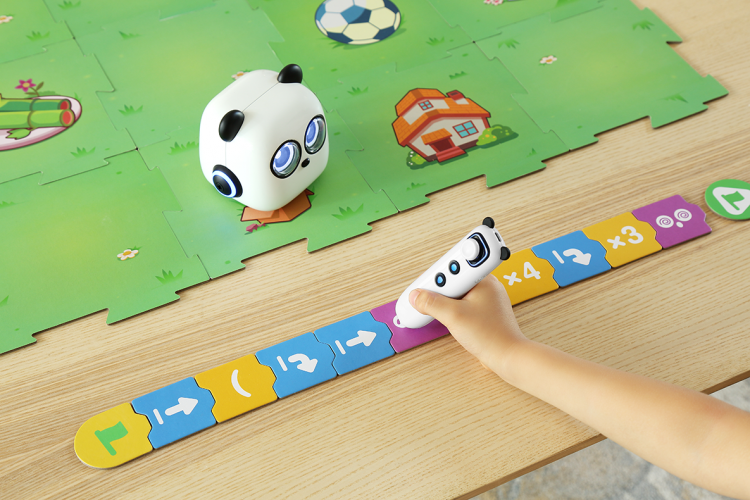 MTiny can be controlled with programming cards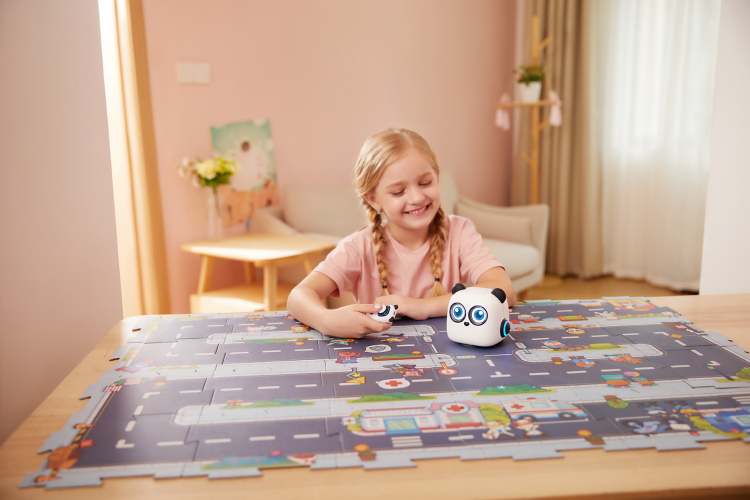 The child can build their own playground to explore with mTiny.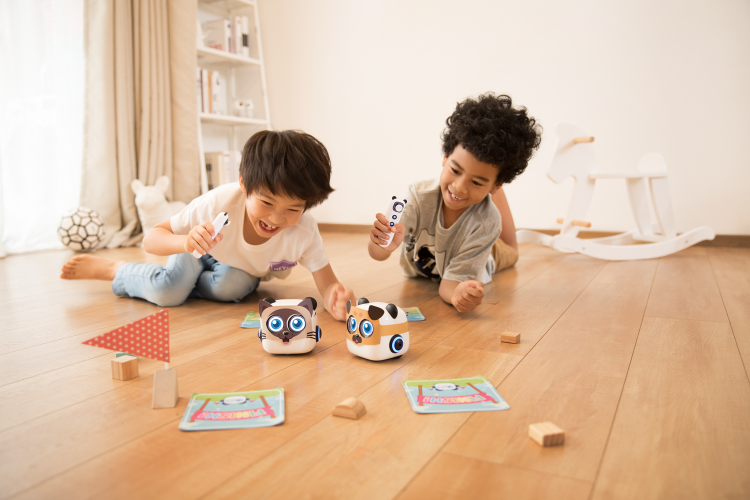 mTiny can be customized and it reacts to its environment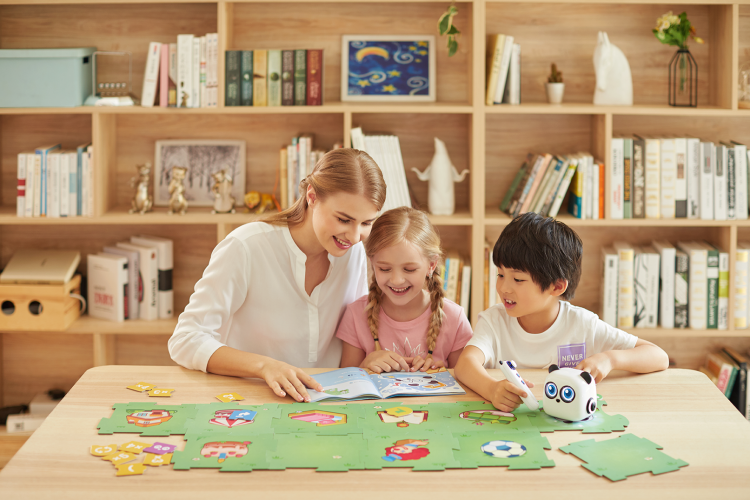 mTiny toolset includes challenges and stories to be completed.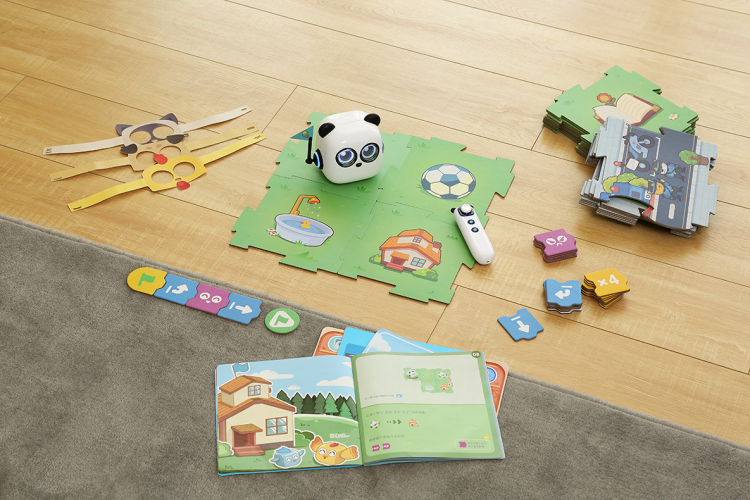 The pedagogical analysis covers how the product supports learning of the identified skills. The student's role is assessed by four contrary pair parameters, which are selected to cover the most essential aspects on the use of the product.
mTiny promotes learning by doing by offering an interactive learning experience. The user can explore activities and choose freely what he/she wants to try out. The solution responds or adapts to the user's activities as the mTiny set includes many alternative ways how to use the robot, how to decorate it and what kind of challenges to solve. In order to progress the user is required to acquire and use new information on scripts, algorithms, and computational thinking.
The solution is very interactive, learners can learn the basics of logic and programming by playing and interacting with the robot. It also fosters the use of problem-solving skills. Free play with the interactive material promotes curiosity and innovative thinking and the linear challenges teach programming. t's a great idea to let the user decorate the robot and build own towns from the pieces of the puzzle. This way the solution supports learning new things through creative tasks.
Linear
Non-linear/Creative
The solution follows non-linear, progressive, user progression which helps every user to choose activities of interest and suitable for a current skill level. The solution offers a fixed amount of guided challenges, but after accomplishing those, the user can come up with own challenges and continue the use. This way the solution can be seen to provide infinite learning outcomes.
The solution allows the learner to make all the decisions individually and the user can act and progress autonomously. This makes it possible to use mTiny at home alone and not only in a classroom. In the classroom, it functions well with a small group of 2-3 kids. The solution is not competitive and users can act completely autonomously even though the users can be very young children.
The following are the high educational quality aspects in this product.
A superbly cute robot friend to explore the world of programming and digital interaction.
Very easy to use and motivating, offering plenty of chances for both free play and more goal-oriented tasks.
mTiny is a great product for starting developing the logical skills and learning to code in a very simple, fun and interactive way.
The product is very versatile and the teacher can link using the robot with other curricular subjects such as music, languages, and literacy.
The supported learning goals are identified by matching the product with several relevant curricula descriptions on this subject area. The soft skills are definitions of learning goals most relevant for the 21st century. They are formed by taking a reference from different definitions of 21st century skills and Finnish curriculum.
Subject based learning goals
Create and debug simple programs.
Use logical reasoning to predict the behaviour of simple programs.
Use sequence, selection, and repetition in programs; work with variables and various forms of input and output.
Use logical reasoning to explain how some simple algorithms work and to detect and correct errors in algorithms and programs.
Understand what algorithms are; how they are implemented as programs on digital devices; and that programs execute by following precise and unambiguous instructions.
Debug (identify and fix) errors in an algorithm or program that includes sequences and simple loops.
Develop programs with sequences and simple loops, to express ideas or address a problem.
Decompose (break down) the steps needed to solve a problem into a precise sequence of instructions.
Create programs that include sequences, events, loops, and conditionals.
Test and debug (identify and fix errors) a program or algorithm to ensure it runs as intended.
Develop plans that describe a program's sequence of events, goals, and expected outcomes.
Give attribution when using the ideas and creations of others while developing programs.
Model daily processes by creating and following algorithms (sets of step-by-step instructions) to complete tasks.
Model the way programs store and manipulate data by using numbers or other symbols to represent information.
Soft skills learning goals
Practicing to use imagination and to be innovative
Practicing to notice causal connections
Learning to build information on top of previously learned
Building common knowledge of technological solutions and their meaning in everyday life
Understanding technological system operations through making
Using technology as a part of explorative and creative process
Practicing logical reasoning, algorithms and programming through making
Experiencing and exploring sounds and music from different sources
Understanding concepts of music and familiarizing with different notations
Learning to acquire, modify and produce information in different forms
Developing problem solving skills
Creating requirements for creative thinking
Encouraging students to be innovative and express new ideas
Using technology resources for problem solving
Practicing strategic thinking
Practicing persistent working
Learning to find the joy of learning and new challenges
Practicing creative thinking
Practicing to use imagination and to be innovative
Encouraging to build new information and visions
Using technology as a part of explorative process
Learning to combine information to find new innovations
Practising visual recognition
Learning to notice causal connections
Learning decision-making, influencing and accountability
Practicing decision making
Practising to understand visual concepts and shapes and observe their qualities
Practicing fine motor skills
Enabling the growth of positive self-image
Practicing versatile ways of working
Learning to face failures and disappointments
Practicing to recognize and express feelings